One of the common sexual dysfunction in men is erectile dysfunction. It is the condition in which men unable to keep or unable to get an erection necessary for the intercourse and pleasure of the sexual activity.
DISCLAIMER: This article contains affiliate links. If you purchase any of our recommended products via our links, we will get a small commission without affecting your total payment. 
Erectile dysfunction is not a problem itself but reflects the signs or indications of some underlying diseases that might include some physiological, psychological, or combination of both.
The Problem of ED increases with the increase in age and can be linked with other problems that hamper with sexual intercourse, such as lack of desire and problems with orgasm and ejaculation.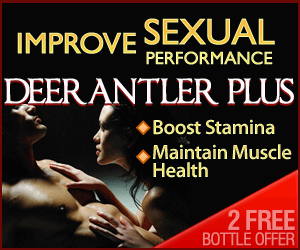 CAUSES OF ERECTILE DYSFUNCTION
Number of factors can be involved in causing the ED
Neurological disorders – multiple sclerosis;
 Psychological states – depression and anxiety;
 Chronic illness – Prostate, bladder, and colon cancer;
 Trauma;
 Vascular disease.
HORMONAL LEVEL IN ERECTILE DYSFUNCTION
Neurological, hormonal, and psychological factors all are interconnected with the mechanism of erection.
Mostly sexual function is associated with endocrine problems. Many studies are showing that androgen levels decrease with the advancement of age. But according to some studies, the role of androgens in erectile dysfunction is still unclear.
With the increase in the age of men, the chances of erectile dysfunction also increase. Endocrine functions in the male also get disturbed with the advancing age. So there is a link between erectile dysfunction and hormones such as Luteinizing hormone, testosterone, prolactin, etc.
Disturb level of hormones mostly contribute to ED like, low testosterone, high prolactin, and uncontrolled thyroid hormone levels can lead to ED.
Testosterone Level
Testosterone is the primary tonic for masculine behavior. It also modulates the sex drive. Decreased testosterone levels cause various unwanted indications, including erectile dysfunction.
Testosterone strikes both the ability and capability of a man to induce an erection. A low level of testosterone reduces libido or sex drive.
Sometimes sexual desire is present, but men are helpless to keep or maintain the erection. This occurs as the brain is intended to signal nitric oxide release, which causes the relaxation of penis muscles, allowing blood flow.
If nitric oxide is not released, it is very tough for a man to achieve an erection.
The secretion of testosterone occurs from the testicular cells in the reply of luteinizing hormone pulses.
Cortisol, a stress hormone, can also be the cause of ED as the elevated levels of the cortisol affect testosterone levels.
Increased level of prolactin causes a drop in the testosterone level and lead to ED.
Improper functioning of the thyroid hormones like hypothyroidism also enhances the prolactin level and reduces the testosterone level.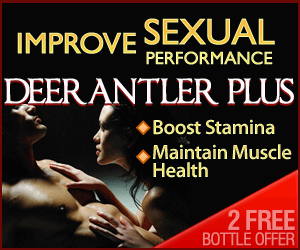 Diabetes
There are 35-75% chances of ED occurrence in males having diabetes.
If the condition in diabetes is not properly managed, then there are many chances of ED occurrence.
There are lots of vascular and neurological problems associated with diabetes mellitus, which is an endocrine disease.
Blood glucose levels must be monitored in the initial assessment of erectile dysfunction and try to manage the blood glucose levels so that ED's problem does not aggravate.
LH Levels
Higher levels of luteinizing hormone also show a connection with the erectile dysfunction.
Among men with LH levels <6 IU/L, testosterone levels were not linked with erectile dysfunction, but among men with LH ≥6 IU/L, those with low testosterone levels were at increased risk erectile dysfunction.
Prolactin Levels
The chances of erectile dysfunction are high in men having hyperprolactinemia.
Men with erectile dysfunction showing low testosterone levels should have a measurement of their prolactin level.
And the condition might be resolved with the correction of glandular disorder. Hyperprolactinemia might be occurring due to the tumor in the pituitary gland, which also causes other diseases. Hyperprolactinemia causes disorders of the sexual sphere because it creates a reduction of testosterone.
In such conditions, sexual symptoms are treated by improving the levels of prolactin.
When testosterone levels are low, there is a need to measure the prolactin level, but there is no need for the routine examination of prolactin.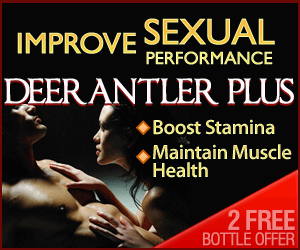 Estrogen
The exact mechanism of estradiol in erection is still unknown, but it is thigh that elevated levels of the estradiol cause erectile dysfunction.
There is a significant role of androgens in normal erectile function and male physical activity.
Higher levels of estrogens have a connection with erectile dysfunction.
The estradiol-testosterone imbalance is considered a risk factor for ED. Furthermore, endocrine-disrupting chemicals have estrogen-like effects and cause ED.
The disproportion between Estradiol-testosterone is observed as a risk factor for ED.
Endocrine-disrupting chemicals have estrogen-like effects and cause ED.
Some endocrine-disrupting chemicals have physiological effects similar to those of estrogen. Bisphenol is a commonly used endocrine-disrupting chemical that is thought to have adverse health effects.
Thyroids
Thyroid glands are butterfly-shaped and are present in the neck and secreted many hormones necessary for metabolism.
They control functions like blood pressure, temperature, and heart rate. The thyroid gland affects every cell virtually, organ, and system in the body, including hyperthyroidism and hypothyroidism, which can cause sexual health and pleasure.
Erection Problems
Disorders of the thyroid hormone are known as erectile dysfunction for men, painful intercourse for women, and low libido for both genders.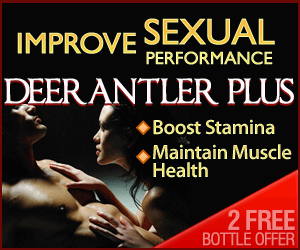 These problems can be reduced with the improvement in the thyroid hormone levels.
There is no explicit function of the adrenal hormones associated with erectile dysfunction.
Men with thyroid disease may also experience these sexual health-related symptoms:
Erectile dysfunction;
 Delayed ejaculation (more common in hypothyroidism);
Premature ejaculation (more common in hyperthyroidism);
Pro sperm can lead to infertility such as lower sperm counts, reduced; sperm quality, lower semen volume, and less sperm motility.
Velvet Deer Antler has been used in oriental medicine for centuries to increase sexual desire and improve sexual performance.
Bodybuilders have used Velvet Deer Antler to boost stamina and help maintain muscle health.
Deer antler is harvested from deer's raised on ranches. At the ideal time of the year, the antlers are removed and specially processed to make the natural components bioavailable to the human body.